Djadadji is also representing Spaans Babcock, which is producing screw turbines and screw pumps for hydro power. Read more below.
Industrial biomass boilers
KARA Energy Systems BV is a family owned company, based in the Netherlands, in business since 1910. It produces and sells industrial biomass boilers in the size range of 350 kW to 15 MW. The company is a worldwide supplier of complete combustion systems based on biomass, and is active in Bulgaria since the 1990s. It is now represented by Djadadji EOOD.
KARA is well known with its industrial warm and hot water, steam and thermal oil boilers. Its boilers can be fed with solid biomass like wood, wood residues, straw, sunflower husk, etc. with a wide range of moisture content. The company is also able to provide co-generation (CHP) configurations for producing both hot water or steam and electricity. Possible temperature levels are  80 degrees Celsius up to 300 degrees Celsius and pressures from 3 up to 20 bar.
Kara's products are tailor-made, created in compliance with the needs and requirements of the client. For example, the boiler can be manually controlled or fully automated controlled using the most modern type of (remote) controls. We provide fire tube cleaning systems, guaranteeing optimal boiler performance and efficiency, emission measurements and annual inspections.
Read more details about industrial biomass boilers of KARA.
Hot water boiler, produced by Kara
Interested? 
Tell us what form of energy you require, as well as the type of biomass available and the available space you have at your disposal and we will offer you the most efficient and cost-effective solution for your situation. We can deliver turn-key solutions, from the fuel supply and storage side to the emission controls - as we take care of the whole process from the design to commissioning and maintenance.
Download the general KARA brochure.
Download the brochure about co-generation offer of KARA.
Updated preferential tariffs for electricity from biomass for 2017
Electric power plants with installed capacity of up to 5 MW with cogeneration from woody biomass - 348,28 BGN /MWh.
Electric power plants with installed capacity over 500 kW up to 1,5 MW with cogeneration from vegetable and plant substances- BGN 449,99 /MWh
Source: DKER (Bulgarian regulator)
For detailed information please do not hesitate to contact us!
Hydropower: screw turbines
Spaans Babcock is company internationally active in the production and sales of screw turbines and screw pumps. It was established in 1897 by the Dutch Spaans family and became part of the English Babcock Group Ltd. Nowadays it is a member of the Dutch Alpha Group and its headquarters are located in Balk, the Netherlands.
The company has been producing the largest screw pumps for over a century, for example to pumping out large volumes of water. Apart from this it also produces aerators, fine screens and screw generators for hydro power.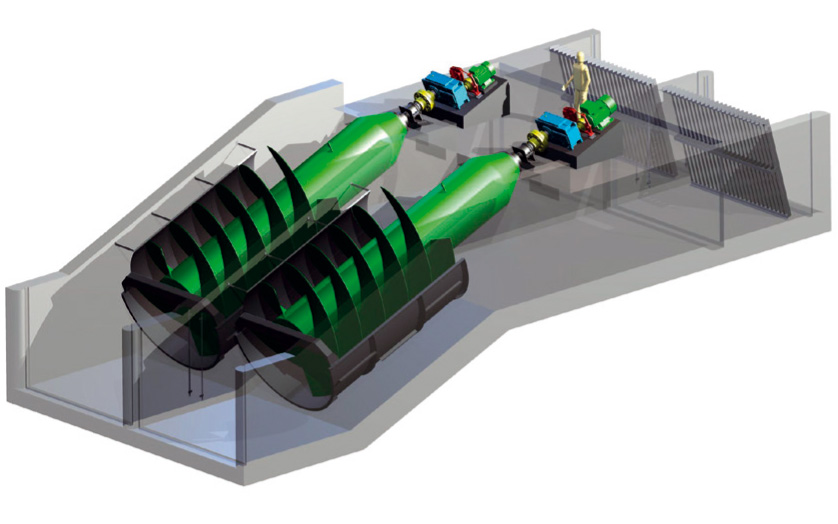 Spaans Babcock has continuously manufactured Archimed screw pumps since 1895 and have supplied over 35 000 screw pumps installed worldwide out of a some 40 000. Spaans Babcock is now represented in Bulgaria by Djadadji EOOD.
In Bulgaria the company will set a priority on two of its main products screw pump and screw turbine. The screw turbine fits very well with a low head hydro power location.  Considering the Bulgarian geology the screw turbine is one of the most economical solutions. The projects can vary from 20 kilowatt to 2 megawatt.
 Download Spaans Babcock archimedian screw turbine brochure.
Drying kilns for wood
Djadadji is also representing BES Bollmann, which is producing kilns for drying wood. Read more here.